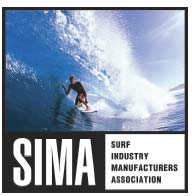 2004-2006 OFFICERS
Dick Baker/Op
President
Paul NaudŽ/Billabong USA
Vice President
Joel Cooper/Lost International
Secretary/Treasurer

BOARD OF DIRECTORS
Bill Bahne/Fins Unlimited
Scott Daley/Body Glove
Vince De La Pena/Mada
Chad DiNenna/Nixon
David Lawn/Rip Curl
Doug Palladini/Vans
Tom Ruiz/Volcom

ADVISORY BOARD (non-elected)
Fernando Aguerre/Liquid Tribe
Wayne Bartholomew/ASP
Kenna Bertell/Roxy
Liam Ferguson/Transworld Media
Alison Ferguson/Water Girl USA
Kevin Flanagan/ASR
Dave Gilovich/Surfline
Bob Graff
Candy Harris/Billabong
Nikki Houston/Surf Expo
Dan McInerny/Hub360
Don Meek/ASG
Bob Mignogna/Mignogna Consulting
Guy Motil/Longboard Magazine
Steve Pezman/The SurferÕs Journal

PAST PRESIDENTS
Peter Townend
Bonnie Crail
Tom Holbrook
Jimmy Olmes
Tom Knapp
Michael Tomson
Bob McKnight
GENERAL COUNSEL
Bill Twomey/Hewitt & OÕNeil
ACCOUNTING
Moss-Adams LLP

ADMINISTRATION
Sean Smith/Executive Director
Melinda Carter/Event Manager
Jennifer Kelly/Marketing & Communications Manager
Travis Wilkerson/Membership Director
ALISO VIEJO, Calif. (February 9, 2006) – The Surf Industry Manufacturers Association is proud
to feature the work of talented Australian artist, Pete Tillack, in the new SIMA office in Aliso
Viejo, Calif. You can view the artwork on the SIMA web site or by visiting Tillack's site at
www.petetillack.com/sima/

Known for his captivating and serene style, Tillack was a featured artist at the 2005 Waterman's
Ball and has quickly become a favorite of many in the surf industry. SIMA commissioned Tillack
to create a piece that would reflect the surf culture and SIMA's environmental commitment to
helping protect and preserve our oceans and surf breaks.

The piece created by Tillack for the SIMA office is titled "Waves of the World." Tillack created
three custom scrolls showing a map of the world, each covering and area of 8 feet by 5 feet,
with eight individual hand painted works depicting famous surf destinations across the globe.
The surf spots painted by Tillack include Cronulla, Australia; Tahai, Easter Island; Le Penon,
France; JBay, South Africa; Pipeline, Hawaii; Teahupo'o, Tahiti; Trestles, California, and
Uluwatu, Bali.

"SIMA is stoked to have Pete's work as the main art in our new office," said Sean Smith, executive director of SIMA. "Pete is an immensely talented artist and the piece he has created for us is truly something amazing. The SIMA office now has the look and vibe we have always wanted. We became huge fans of Pete after last year's Waterman's Ball and have enjoyed working with him. We are proud to be able to display his talent for more of the surf industry to see!"

A self-taught artist, Tillack was drawn on an adventurous seven-year journey which took him
around the world and was lead by his love of the ocean's waves and his passion for surfing.
Living and participating in the many diverse communities he visited, Tillack encountered
countless cultures and lifestyles that lent a hand in helping him became more aware of his own
self-explorations, direction and personal growth. He draws upon these emotions and experiences
to transcend the feelings to others through his art; his work is heavily influenced from his travels and surroundings, but all are infused with the same feelings of serenity.

"After traveling around the world for 10 years, I have seen the beauty that it has to offer and I
have seen the devastation which we have caused, and it is only growing," said Tillack. "If we do
not look after what we've got, we wont have it for long and we will only be denying ourselves,
and our future family and friends!"

Fans of Tillack's work can look forward to seeing more of his pieces at future SIMA events.
Tillack is already deep in the creative process for the art he plans to contribute to the 2006
Waterman's Ball auction, which is bound to help increase the fundraising effort for the oceanenvironmental beneficiaries.

Learn more about Tillack and view his work at www.petetillack.com, and stop by the SIMA office
to see his amazing work in person.

The Surf Industry Manufacturers Association (SIMA) is the official working trade association of
more than 300 surf industry suppliers. Founded in 1989, SIMA is a non-profit organization that
serves to promote awareness of the surf industry and participation in the sport of surfing
through public relations efforts and a variety of services, educational programs and research. In
addition, SIMA actively supports oceanic environmental efforts through its 501(c)(3) charitable
environmental foundation, the SIMA Environmental Fund. In the past 16 years, SIMA's
Environmental Fund has raised more than $3 million for environmental groups seeking to
protect the world's oceans, beaches and waves.