<:::return to index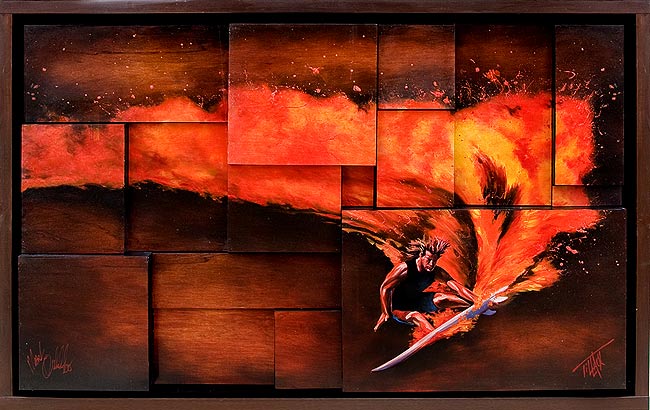 "Elouera Marked" – by Pete Tillack
2008 waterman's ball fundraiser was honoring Tillack's hometown surf legend - Mark Occhilupo, as waterman of the year due to his immense foot print he made to the sport.
Tillack had modeled his surfing on Occy, and there for only saw it fit to create a piece that portrayed the surfer's trademark power turns.
The concept of this 5.5ft x 3.5ft piece was created so that it spanned more than two dimensions, after painting the original works on wood, it was then cut up, and re-organized to be built on many different levels of depth giving a third dimensional quality.
Starting off a little hesitant at the live auction, momentum was gained and went back and forth between one of Tillack's existing collectors (Pete Burke) and another hand that was located at the front but out of site.
The bidding reached $19000 and was to be headed by the man himself - Mark "Occy" Occhilupo.
"after the bidding I went over to congratulate Occy and he was hugging me saying Pete - I love this , yet I kept trying to tell him how much of an effect he had on my surfing and how much this meant to me - how awesome is that!!"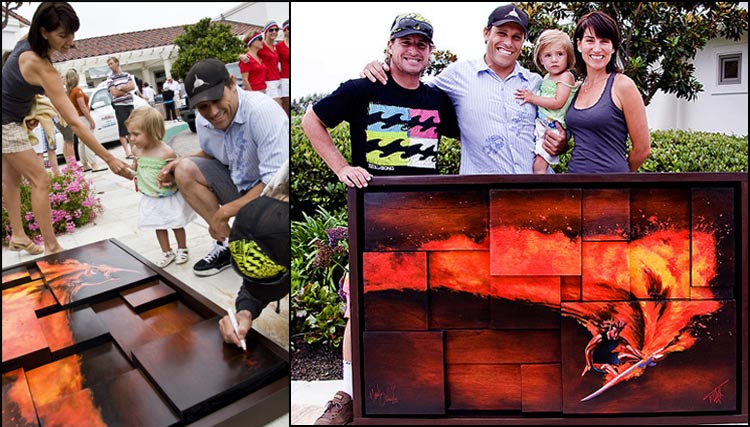 Occy finalizing the piece with his signature,
which ended up being dedicated right back to him the next night at the Waterman's Ball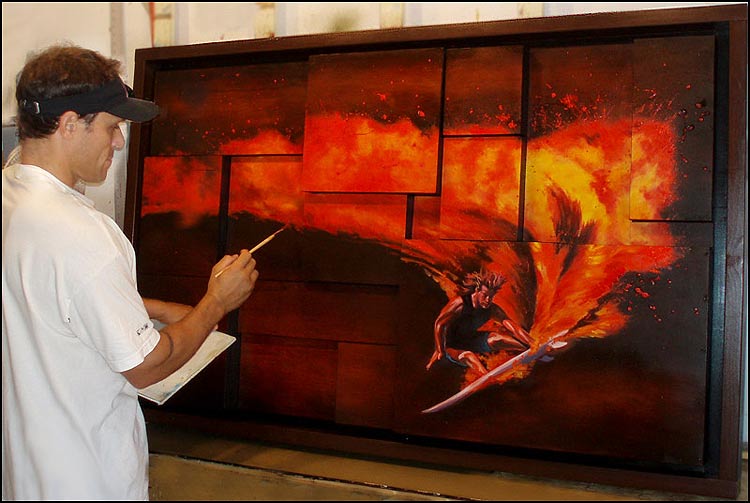 final strokes
HONORING 2007:

Mark Occhilupo - Waterman of the Year
Jackson Browne - Environmentalist of the Year
Eduardo Arena - Lifetime Achievement Award
Surfrider Foundation & Sierra Club's Friends of the Foothills - Special Achievement Award

Click here to visit SIMA site


Beneficiaries
Surfrider Foundation
Grant will enable efforts to save, improve and protect surf locations, protect the quality of water in the surf zone, ocean environmental education, as well as a specific portion of the grant dedicated to the fight to save Trestles.

Ocean Institute
Grant will support the Watershed Education Program designed for students for hands-on education about the environmental impact of their behaviors.

WiLDCOAST
Dedicated funds will support continued efforts to save surf breaks and ecosystems in Baja, California from development; to reduce contamination in Imperial Beach, Coronado and Tijuana; and increase community leadership to address coastal pollution.

Heal the Bay
Funds will support reduction and prevention of marine debris throughout California by advocating for a strong implementation plan by the Ocean Protection Council, as well as support the speaker's bureau program to conduct environmental presentations to a variety of Los Angeles community groups.

Orange County CoastKeeper
Grant will support efforts to reduce the health threats caused by urban runoff pollution in Orange County, Calif., through advocacy, enforcement, education, promotion of low impact development standards, and water monitoring efforts.

Surfing Education Association
Dedicated funds will be used to prevent hotel growth and destructive legislation from being passed that would threaten surfing sites and public accessibility at Waikiki Beach and other surfing areas on Oahu.

Alaska Wilderness League
Dedicated funds will help protect sensitive marine and coastal areas offshore of the America's Arctic Refuge, including the Polar Bear Seas, Beaufort, and Chuckchi, from oil exploration or development.

Seymour Marine Discovery Center
Funds will be used to educate young people about the role marine science plays in understanding and conserving the world's oceans through a variety of educational programs and camps.

Algalita Marine Research Foundation
Funds will be used for the Ship-2-Shore educational research voyage for students; development of a Geographical Information System that will track the presence of plastics in the oceans; Coast-2-Coast, which is a public education event about the problem of plastics in the world's oceans; and the REEF Research Project, which analyzes the coastal waters for the presence of plastic.

Save the Waves Coalition
Funds will support their World Wave Sites Program that is designed to proactively designate and help preserve special waves and surf zones around the world. The funds will also benefit their Chile-based program with the primary goal of reducing pulp mill pollution in several coastal areas that contain surf.

Reef Check
Funds will be used for the continued expansion of programs into Southern California, continued global reef monitoring, and educational events designed to create awareness of the importance of reef conservation.

KAHEA: The Hawaiian-Environmental Alliance
Funds will be used to build a coalition of activists through direct action campaigns, incident monitoring by citizens, and ocean education to promote the protection of Hawaii's coral reefs and to support ocean protection issues including securing protection of the Northwestern Hawaiian Islands, gill nets and cruise ship regulations.

SINADES: Natural Systems and Development Civil Association
Funds will be used for their Young Environmental Ambassadors program, which empowers a group of local youth to conserve and protect the community's most important resources - the beaches and surf breaks of Todos Santos and Pescadero, B.C. S., Mexico.

Sierra Club's Friends of the Foothills Campaign
Funds will be used exclusively for litigation and legal activities battling the expansion of the 241-toll road and the fight to save Trestles, San Mateo watershed, Donna O'Neill Land Conservancy, San Mateo Campground, and San Onofre State Beach.

Santa Barbara Channelkeeper
Funds will assist their Advocacy and Enforcement Program to prevent stormwater/urban runoff pollution and ensure implementation of strong stormwater management programs. The funds will also support their Stream Team water quality monitoring program and marine education programs for students.

North Shore Community Land Trust (NSCLT)
Funds will be used to permanently protect Pupukea Paumalu and the local waters, community stewardship of public beach access, and other efforts to preserve Oahu's North Shore.

Assateague Coastal Trust, Inc.
Dedicated funds will assist with their nutrient and chemical contaminant reduction activities, as well as purchase a new boat for the Assateague Coastkeeper's programs to protect and enhance the natural resources of the Atlantic coastal bays watershed.